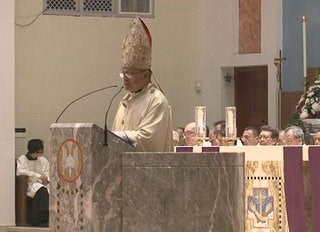 The leader of the island's Catholic faithful addressed his flock last night, finally shedding light on his pastoral visit.
While he's been noticeably silent on this and other controversies facing the church in recent history, he spoke from the pulpit and used his voice to call for unity from followers, reminding them of the virtue of forgiveness.
And the message seemed to be well received, as parishioners indicated a renewed sense of direction.
"In my pastoral visit, I have seen the suffering of our people and the longing to be healed and made whole again it is our strength. We are and must be supportive in this way and those who support us and work with us are here represented here today. I realize that many people are hurting and suffering and I myself have my share of pain this is our church and coming together which we must do allows us to get healed let us all help in the process we all make mistakes because we are all too human, but God is among us and always he is the one who can bring us together for healing."
This was the message Archbishop Anthony Apuron shared with hundreds of the Catholic faithful who gathered Wednesday evening to participate in the Chrism Mass, an annual religious service in which the archbishop blesses the sacred oils for the catechumens, the oil for the sick and the oil of the chrism. As we have reported over the course of a year controversies have emerged from within the church to include the removal of Father Paul Gofigan as pastor of Santa Barbara Church in Dededo, and the removal of Monsignor James Benavente as rector of the Cathedral Basilica. But in last night's the chrism mass both were present as the celebration which holds a special meaning.
Archbishop Apuron officiated jointly with all priests as a sign of their unity.
By the end of the mass parishioners like Ivan Babauta and Rosalee Santos, who've watched the controversies within the church over the past several months, saw hope.
Babauta said, "I believe it was very inspirational he spoke about our Catholic faith and that as human we are not perfect and we need to forgive one another and you know the main thing is putting Jesus Christ first not serving man but serving God." And Santos added, "I think it is just absolutely beautiful. I received a word of love and compassion that the Lord is always good and loves us all even if we are sinners I think it is beautiful. I think so I have always felt that the archbishop is the vicar of our church and we should be obedient to him this is my firm belief I think it is beautiful tonight because there is a sense of forgiveness and truly love from the Lord. The Lord loves us so much that we really should love each other."
http://www.kuam.com/story/28701750/2015/04/02/possible-healing-within-guams-catholic-church