Church fires back, says protesters will be sued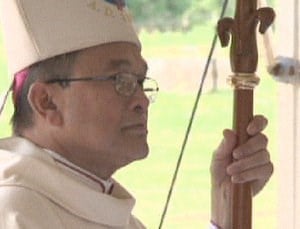 They've taken the hits, but now they're fighting back. In
a press release
, the Archdiocese of Agana wants to set the record straight - that the last three years of allegations and protests against the local Catholic church have been mere attacks to undermine the authority of Archbishop Anthony Apuron.
Enough is enough this from the Archdiocese of Agana which issued a press release stating they're preparing to file a civil lawsuit against those who have spread malicious lies concerning the local Catholic church. We've seen it unfold over the last three years: concerns about transparency, concerns about the ownership of the Redemptoris Mater Seminary in Yona, and most recently, allegations that Archbishop Apuron has a history of molestation dating back 40 years.
According to the release, "For the past three years the Catholic Church in Guam has been constantly targeted by a series of lies destined to undermine the authority of the archbishop. In order to help the people understand the defamatory nature of these attacks, let us review the series of intentional and malicious lies that have been spread by the media." One by one, the release debunks the allegations and contends the Archdiocese of Agana remains the sole owner of the RMS as supported by the title deed of property, which was made public.
As for transparency, the release states Archbishop Apruon is available to the people - as seen almost every night celebrating in different parishes, visiting schools, and celebrations on Sundays.
The release alleges
that the attacks on the archbishop are a result of his stance against abortion, casino gambling, legalization of marijuana, and same-sex marriage. "It is clear that his efforts displeased many people whose interests are not for the common good of Guam, but for their own personal interests. Whoever joins in this attack against our Catholic faith, our Catholic Church, is neither Catholic nor Christian; this kind of malice lacks the spirit of Jesus Christ. After keeping silent for a long time, since those who are orchestrating this campaign are inducing people into scandal, confusion and grave errors with the malicious intent to injure the archbishop, the church in Guam and many other people have been insulted and harassed, the Archdiocese of Agana is in the process of taking canonical measures with the Sacra Rota - the competent canonical tribunal - and filing civil lawsuit against those perpetrating these malicious lies."