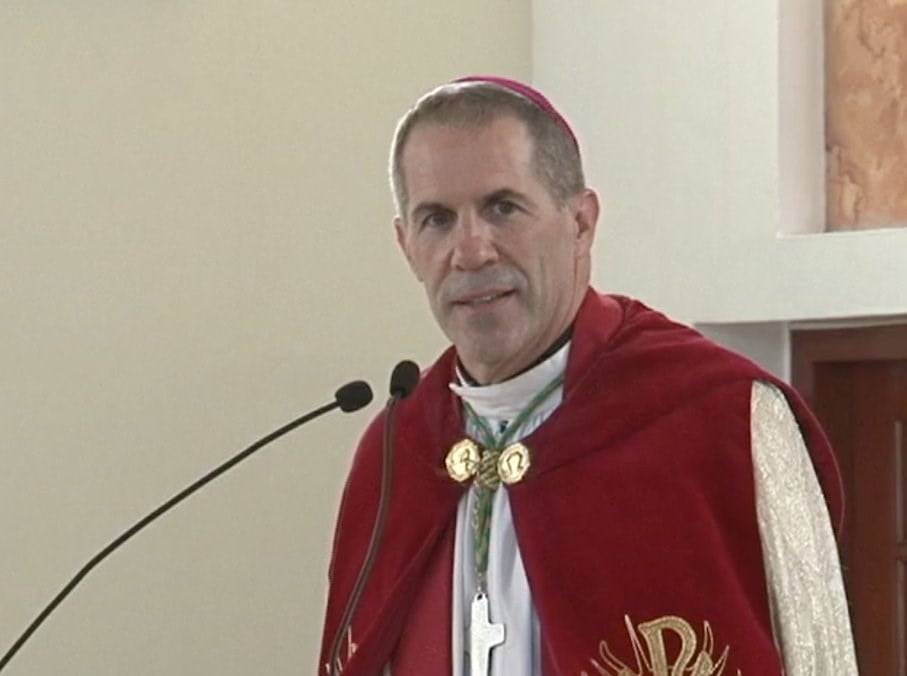 Archbishop Byrnes celebrated his first Mass with the people of Guam. It was a very beautiful Mass, and the church was packed with people that a few were left standing in the back. I can see that many people were moved with Archbishop Byrne's homily and were listening intently to his every word. His homily is something we need to reflect on and take to heart (the bold is mine):
"I'm not the one here to heal the pain, that's not why I came, I can't do it, but I know someone who can, that's Jesus. It's not just Jesus up in Heaven doing his thing, but it's us. We are the Church, we are the body of Christ, we are his hands, his feet, his heart. It's through our effort, exercising the body of Christ. Exercising the multiple and various gifts we share too. That can bring back unity to the Church. It is his word through us that can bring about the healing. It starts in the hearts of each one of us. The fulfillment of life and love that he brings. I need to see past the pain, I need to see past the betrayal, I need to see past my suspicion of another and try to perceive the good in their heart," said Byrnes, alluding to the scandal that has deeply divided the Church on Guam.
The following is my message to the Sunday protesters.
As everyone on island knows, the deed restriction has been rescinded and the two boards of RMS were removed. As you are also fully aware, Archbishop Byrnes has no authority to remove Archbishop Apuron. Even Archbishop Hon tried to convince Pope Francis to remove him, but the pope said no. Only the Pope can remove him. So, why the Sunday protest? It was the Pope's decision to allow Apuron to keep his title and granted him a canonical trial. Your protest then is no longer a protest to defrock Apuron, but a protest against Pope Francis' decision. Think about that fact for a minute.
Protesters, if you really want to stop your suffering and heal, then listen to the homily of Archbishop Byrnes and stop your protest against Pope Francis' decision.
Follow Christ and all the things He taught. As Archbishop Byrnes pointed out, it starts with each individual. Each individual protester must make the decision to cease their protest against Pope Francis ' decision and allow the canonical trial to take place just as Pope Francis wanted it. The man who made the following statement below is the one whom you should follow. Pope Francis followed this man and every Catholic are called to follow Him as well:
Luke 6:36-37

Be merciful, just as your Father is merciful. Do not judge and you will not be judged. Do not condemn, and you will not be condemned. Forgive, and you will be forgiven.
Once you have made the choice to follow the Pope's decision instead of protesting against it, then you will find healing taking place.