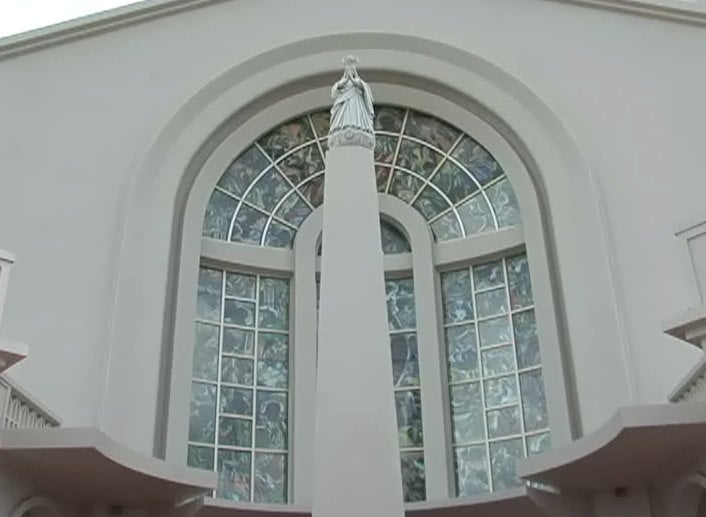 According to KUAM news:
Senator Frank Aguon, Jr. is questioning the church's sudden interest in Bill 326. If you recall, the controversial legislation was introduced after several allegations of molestation were made against clergy. Although three public hearings were held, Aguon recently received a Freedom of Information Act request from Attorney John Terlaje who represents the Archdiocese of Agana.

Although his office is complying with the FOIA, he states, "I have to wonder where were these concerns during the legislative process."

As of today, 12 civil suits have been filed against the church for child sex abuse.
Archbishop Byrnes is going to discover that the "Silent No More" group only collected about 3000 signatures to get the bill introduced while about 5000 signatures were submitted to try and convince Governor Calvo to veto the bill. He will discover that the Junglewatch Nation (which consist of Silent No More, CCOG, and LFM) were the ones pushing for the passage of the bill into law. Only Dr. Zoltan Szkeley (a member of the Neocatechumenal Way) spoke in opposition of the bill at the public hearing. Archbishop Hon did not even bother to do his research on the bill until it was passed by the Guam Legislature. He was more focused on removing Archbishop Apuron that he did not realize the impact the bill would have until he was in Rome. Then, he started scrambling in Rome, telling Father Jeff to send a message to all priests to have his letter read at the pulpit and have the Catholic faithful sign a petition in opposition to the bill in the hopes of getting Governor Calvo to veto it.
And of course, we all know the rest of the drama. Father Jeff relayed Archbishop Hon's message to his fellow priests while entertaining the very same people who pushed for the passage of the bill. Pale Mike Crisostomo, on the other hand, decided not to read Hon's message and did not put out the petition for his parishioners to sign.
One of the things that Archbishop Byrnes will find in the oral testimonies given at the public hearing is the NUMBER OF TIMES the name "Archbishop Apuron" was mentioned. As a matter of fact, Tim Rohr also testified at the public hearing. His testimony was only two pages long, but he mentioned Archbishop Apuron's name 11 times. Therefore, this bill was mainly passed to target him and only him. It was the same with the sex abuse ads that Tim Rohr and CCOG placed in the newspaper. It mainly targeted Archbishop Apuron and only Archbishop Apuron.