I guess Archbishop Apuron continues to monitor Guam from where ever he is. After hearing of Archbishop Hon accusing him of disobeying the Holy See, he was able to get out a press release to KUAM news. Archbishop Apuron's press release can be found in the KUAM news article. According to KUAM news:
-------------------------------------------------------------------------------------------------------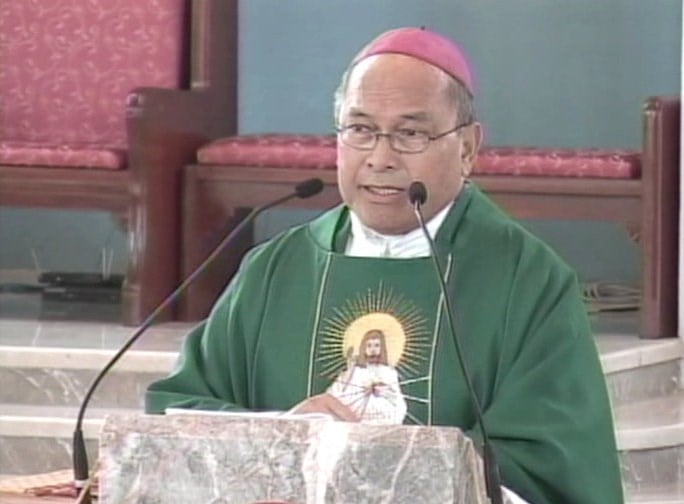 It's become a great debate - and we're not talking about the upcoming election. We've heard from the
Concerned Catholics of Guam
, apostolic administrator
Archbishop Savio Hon Tai Fai
, and even rector to the Redemptoris Mater Seminary
Father Pius Sammut
, all of whom have different opinions on who owns the Redemptoris Mater Seminary in Yona. And now,
we hear from Archbishop Anthony Apuron
himself who maintains the controversial deed restriction doesn't hand over the property, but protects it.
After months of being attacked for a deed of restriction on the multi-million dollar Yona seminary, Archbishop Apuron is looking to clear his name, not only here at home but with the Holy See.
In
a statement issued to KUAM News
on Friday sent through his legal counsel attorney Jacque Terlaje, Apuron states the pope has granted his request for a canonical trial. In his defense, Apuron states past claims made by Archbishop Hon and other critics of the Yona property are causing
"real, grave, and immediate damage to the church in Guam and to my good name, spreading scandal and confusion among the faithful."
While the deed of restriction is believed to hand over the RMS to the non-profit RM Corporation and parties affiliated with the Neocatechumenal Way, Apuron contends the restriction merely blocks the sale and that if it wasn't for him, those looking to cash in would've converted the RMS from a seminary into a casino.
"I have always defended the moral life of the island opposing establishments which would bring money to few and moral misery and degradation to many," Apuron wrote."It would be irresponsible for a father to forfeit the future of his children, that is, to cash in on the property and destroy the possibility to form priests for the future."
Although Archbishop Hon previously stated Apuron disobeyed the Holy See, Apuron maintains that's not the case. "I have always obeyed the Holy Father and it is my firm intention to continue to do so," his statement read.
Apuron adds that only he has the power to lift the restriction. "I am convinced in conscience that I cannot lift the restriction of this property," he continued.
No information was provided on Apuron's whereabouts.
Concerned Catholics of Guam president Dave Sablan suspects the declaration provided by Archbishop Apuron on the RMS property is a fake. "It's very surprising that Apuron would even write this declaration," he explained. "He's not even supposed to be involved in any of these issues that Archbishop Hon is involved in because Archbishop Hon is now the apostolic administrator. I also noticed that this declaration of Apuron's wasn't even signed by him so truly did he write this or did he give somebody permission to say these things using his name? So it's very suspect in that regard."
KUAM News spoke with Apuron's attorney, Jacque Terlaje, who maintains the declaration is authentic and the document provided to media was not an original, but a PDF. The original, she states, was signed and sent directly to apostolic administrator Archbishop Savio Hon Tai Fai.
In response to the CCOG's suspicions, she adds, "This is exactly the tactic they're constantly bringing. no substantiation and wild allegations."