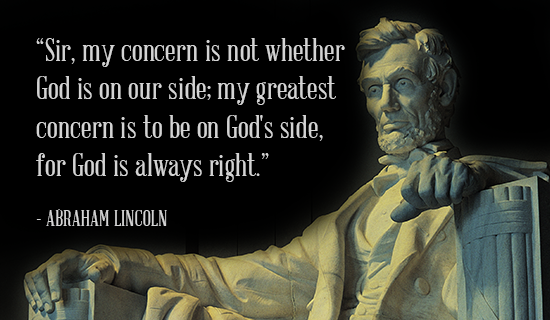 During the Civil War, Abraham Lincoln was asked if God was on his side. His answer was: "Sir, my concern is not whether God is on our side. My greatest concern is to be on God's side, for God is always right."
This is one of the most important thing about religion ever said by an American president. Many people (including politicians) want to claim that God is on their side. When people are sure they are right, they confidently say that God agrees with them. But Lincoln was correct. The most difficult and essential question is to ask ourselves if we are on God's side. That often means changing our minds and hearts and taking on a new perspective. The Church calls this "conversion."
History has shown that people have done despicable deeds while boldly claiming that God was on their side. Being a Christian does not guarantee that God is "on our side." The biblical passage "Not everyone who says 'Lord, Lord shall enter the Kingdom of Heaven'" (Matthew 7:21) is evidence of that. God is on the side of those who are on His side - who knows His heart and mind and His will - not those who insist on convincing God, the Vatican, and others that their way is right. It is dangerous to mistake our wishes as God's will.